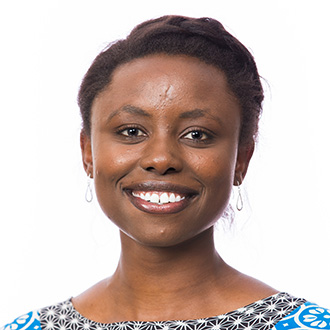 Hometown: Nakuru, Kenya
Undergrad Degree: Health Sciences
States: NY, OH, PA, WV
What type of high school did you graduate from?
Public school
Why did you choose BJU?
Upon my family's move to the States, my dad took me to the BJU website and told me "this is the university I wanted to attend." Five years went by and when the college topic began during my senior year of high school, I remembered my dad telling me about BJU.
I arranged a visit; accompanied by my dad, we drove down from Virginia. I yearned for the Christ-centered community that I experienced during my visit. I am so thankful that the Lord opened the doors for me to become a BJU student.
How have you grown over your years at BJU?
During my years at BJU, I have grown exponentially, spiritually probably being the most. Through my professors' testimonies, chapel messages and godly friends, my desire to know God expanded. Academically, I was very challenged. I learned how to study and fell in love with learning. I also grew culturally—I came to love American food and Greek food! Grew out of my comfort zone and tried different foods. I now love cheese, ham, and I know what a gyro is.
What is your favorite college memory?
So many! One of my favorite college memories would be going to a friend's home who lived in town to make breakfast food for dinner. Bible Club was always a highlight of every week. The opportunity to share the Gospel and Christ's love to children with my friends was incredible.
I will also always remember the last chapel of the semester. Despite being in the middle of exam week, tired, begging the Lord to give you one last push, as a student body we were encouraged to go out and make disciples. We were given either small New Testaments or tracts. During this chaotic week, we were reminded of our ultimate purpose.
What's your favorite verse or Scripture passage?
One of my most favorite verses is Galatians 2:20. It says "I am crucified with Christ: nevertheless I live; yet not I, but Christ liveth in me: and the life which I now live in the flesh I live by the faith of the Son of God, who loved me, and gave himself for me." The Gospel, full of grace leaves me in awe. Christ lived a perfect life and died the death I deserved, so that I may have a relationship with Him—my Creator—and live with a purpose.
Any advice for incoming students?
Talk to your teachers. No matter how intimidating they might seem to you, do all you can to build a relationship with them. Once you walk into that office, they truly move from being the extremely intelligent, intimidating professor to the most personable, approachable—who would do all they can to answer your questions and help you understand the material.
Additional advice would be to take advantage of your elective credits. Try out classes outside your major! Through this, you not only get the chance to meet new people but also learn new things that you might end up enjoying more than your major.