If you are flying directly to BJU from your home, schedule your flight to arrive in the Greenville-Spartanburg International Airport (airport code GSP)
Do you need shuttle service from the airport or bus station?
If you need a ride to campus from the Greenville-Spartanburg International Airport, the Greenville Greyhound station, or the Greenville Amtrak station for the fall semester, please submit a request. The cost for this service is $15, which will be billed to your student account. After you arrive and collect your luggage, make your way to the BJU vans parked just outside the baggage claim area. The shuttle drivers cannot leave the vehicles to meet you inside the terminal.
Residence Hall Move-In
You will receive an email to your BJU student email account Saturday morning, Aug. 21, with your room number. The residence halls will open at 8 a.m. There will be smiling faces and willing volunteers to help you move in from 8 a.m.–4 p.m.
Your ID card will provide access to your residence hall. If you need help finding your residence hall, check out our campus map or ask another student or a member of the faculty or staff for directions.
Once you move in, you're ready to check in!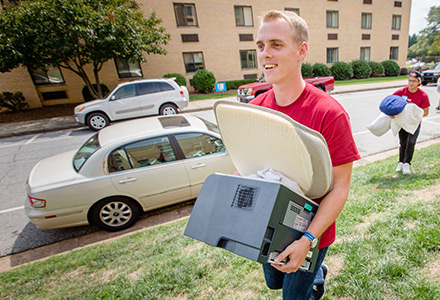 Check-in
Check-in is where you can pick-up your class T-shirt, booklet with schedule information, academically check-in and complete your schedule, meet your First-year advisor, look for a job, and so much more.
Check-in opens at 9:30 a.m. at the Davis Field House and finishes at 3 p.m. so you and your family can attend the 4 p.m. Presidential Welcome.
Technology Resources will be at check-in to help you connect your electronic devices to the University WI-FI and network. Please bring these with you to Check-in.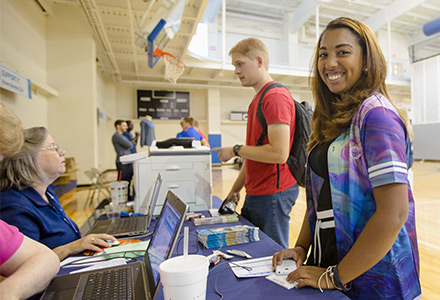 Auditions for Music Lessons and Groups
If you're taking music lessons for the first time at BJU or if you want to join a music group, you'll need to audition before you register for classes. Music groups are open to all students, regardless of what academic program you're in. If you're planning to join a music group, you'll be able to reserve space for it on your schedule in StudentCentral when you register for classes.
SAT/ACT and Placement Tests
We require all students to take the ACT or SAT.
Placement tests are given to determine the level of instruction that you should register for. You should take all placement tests that apply to you before registering for classes. Following each test, you will be informed which course(s) you should register for and/or waive.
English
New and transfer students (associate who receive fewer than 6 English credits or baccalaureate students who receive fewer than 9 English credits) who have no ACT or SAT scores must take this placement test. Testing may take as much as 45 minutes. Students wanting to challenge their ACT or SAT placement may also take the placement test.
Mathematics
Bachelor Degree Programs
Required the first semester of enrollment for all students who have no ACT or SAT scores and who have a specified mathematics course or elective the first semester of enrollment. Testing may take as much as 2 hours. There is a time limit on these tests, so be sure you have the maximum allowed time available. Students wanting to challenge their placement may also take the placement test. Study Guide for testing into Ma 103, 105 or 200
Mathematics Proof Techniques
Required of students registering for a 300-level or above math course who have not completed Ma 150. If passed, Ma 150 will be waived; if not passed, Ma 150 will be required prior to taking any 300-level or above math course. Testing may take as much as 45 minutes. Students should not take this test unless they are directed to do so by a math faculty member. Ma 150 Study Guide
Statistics Test for Math Ed Majors only
Offered to Mathematics Education majors who wish to try to exempt Applied Statistics (Ma 320) in order to replace the requirement with a more advanced upper-level course.
World Languages
Chinese, French, German, and Spanish
Students registering for a world language course for the first time at BJU must take the appropriate placement test. Testing may take as much as 45 minutes. A short verification is all that is needed for a student with no experience in the language.
Music
Music Qualifying
Students auditioning for a music lesson for the first time at BJU who are not a music major or minor, must take this test before auditioning for a music lesson. If not passed, MT 100 Fundamentals of Music (0 credit, 0 load) must be taken during the semester of your first music lesson. Testing should take 15 minutes or less.
Rudiments of Music
Required of all new music majors or minors registering for MT 105 Theory I. If not passed, MT 099 Introduction to Music Theory (0 credit, 0 load) must be taken during the same semester as MT 105. Testing should take 30 minutes or less.
Music Theory
Required of new music majors and minors who want to place out of or validate music theory courses (MT 105 & 106) on the basis of previous training. Learn more about the music theory test
Computer Science
Required of students who wish to try to waive CpS 110 (Computer Science I) and begin with CpS 209 (Computer Science II). Students must qualify to take Ma 105 (see math tests above). The test is in two parts: a multiple choice part that could take as much as 45 minutes, and (if that is passed) a programming part that should take no more than 60 minutes.
Placement Tests Online
Using your BJU login
If you don't have a BJU login
Select that you're taking an online course
In the course selection, select "PLCMT: Any Placement Test"
Meet Your Academic Advisor & Register for Classes
Your First-year Academic Advisor will be at the Davis Field House during check-in to answer any questions and help you finalize and officially submit your schedule.
For returning students, all advisors will be in their offices Mon.–Tues. of Welcome Week to answer any questions about registration or your classes, or to talk with you about your career plans.
If you attended summer orientation, all you'll need to do to complete your registration is to accept your preregistered class schedule.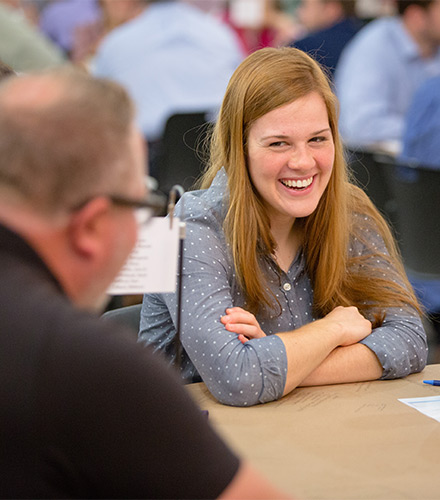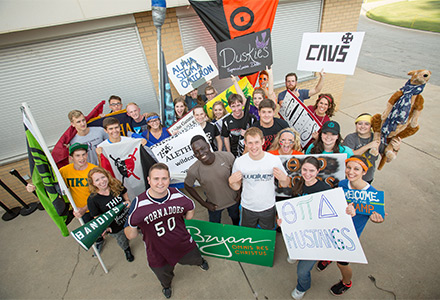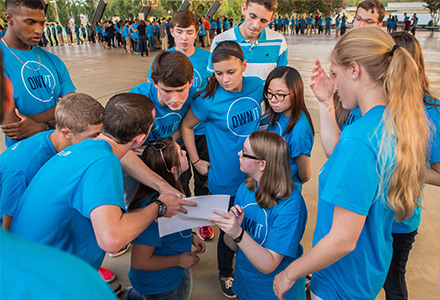 Society Rush
Society Rush is a crazy time of year where you'll choose a society to get involved in for the rest of your college experience. It's good to do your research ahead of time, take advantage of all the freebies you're offered, and have a blast meeting and hanging out with other students.
Welcome Activity
We're glad you've joined the Bruin Nation! To celebrate and to get to know you a little better, our Student Engagement & Success team hosts a fun activity where you'll eat good food, meet other new students and enjoy games together.
Opening Exercises
Your official welcome as a BJU Bruin comes during this annual tradition. After you join the procession into the Founder's Memorial Auditorium, you'll be challenged by student leaders and hear your professors commit to supporting you through prayer and encouragement. This annual tradition not only sets the spiritual tone for the year, but also bookends your college experience. And most importantly, you'll hear encouraging and challenging messages that will help orient your heart toward following Christ and cultivating a lasting relationship with Him.
Campus Opportunities Expo
Explore dozens of ways you can get involved in the student body at the Campus Opportunities Expo. All student organizations gather in one location and set up booths so you can find the opportunities that interest you. Make sure you talk with the student representatives and ask about openings in their group for you. Some may want you to complete your first year before you can join, but it's good to let them know now that you're interested.
Community Outreach Fair
Outreach in the local community is a vital part of your education at BJU. At the Community Outreach Fair you'll have the opportunity to explore and sign up for events that will take place during the first few weeks of school.
Welcome Week introduces you to life at BJU and helps your transition to college life. We have exciting activities planned as you learn how to succeed at BJU.
Saturday, Aug. 21
Sunday, Aug. 22
Monday, Aug. 23 (Registration Day)