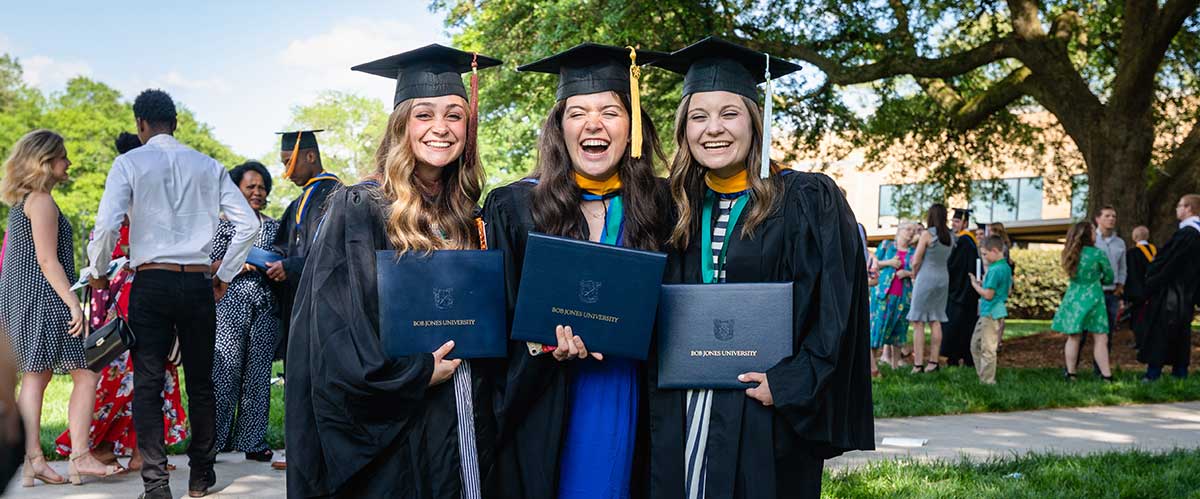 Class of 2021
Thursday, May 6
11 a.m.
Awards Ceremony
Founder's Memorial Amphitorium
2 p.m.
Nurses Pinning Ceremony
Rodehever Auditorium
Live Webcast
4 p.m.
Criminal Justice Challenge Coin Ceremony
Stratton Hall
7 p.m.
Baccalaureate Service
Founder's Memorial Amphitorium
8:30 p.m.
Alumni Legacy Ceremony
Rodeheaver Auditorium
Friday, May 7
9:45 a.m.
Graduation Rehearsal
Founder's Memorial Amphitorium
2 p.m.
Commencement
Founder's Memorial Amphitorium
Live Webcast
Campus Map | Driving Directions | Hotels | Info for graduating students
Class of 2020
We'll be holding Commencement for the Class of 2020 on Saturday, May 8, at 10:30 a.m. in FMA. It is open to the public. Masks are required for guests inside all university buildings.
Tickets and Seating
Degree candidates will be given five complimentary tickets. These tickets may be used for seating on the main floor or in the balcony. No seats may be held for others. Ushers will seat ticketholders by filling in all vacant seats. Ticket holders should enter the main entrance where they will be directed to the balcony or to various aisles on the main floor.
Note: There will be some ticket holders who will have to be seated in the balcony. The tickets guarantee seating in the building, but not in a particular section of the building. Seating on the main floor will be on a first-come, first-served basis.
Guests' Arrival: The Amphitorium doors will open at 1 p.m., and tickets are valid until 1:30 p.m. To get into the building by that time, guests should arrive in time to secure parking and get to the Amphitorium.
All guests without tickets should enter the tower doors opposite the Student Center Post Office and Unusual Films.
Note: Video or tape recorders and packages are not permitted in the Amphitorium. These items may be checked with the ushers' in the lobbies or left in a secure place elsewhere.
Children
Children must be 6 years of age to be admitted to the Amphitorium or to the Auditorium. Guests with children may view the closed-circuit program in Levinson Hall in the Student Center.
Parking
Parking will be available in the parking garage, Wade Hampton Mall Lot, Pleasantburg Lot, and various smaller lots on campus.
Physical Disability Accommodations
Wheelchair: Guests seated in wheelchairs are to enter the tower door for Aisle 3 (opposite Student Center Post Office) or Aisle 11 (opposite Rodeheaver Auditorium) and may be accompanied by another individual. No tickets will be needed for a person in a wheelchair or the one person with them who will be seated in a chair next to them.